Google Chrome Extension
This feature is not currently available for Quickbooks users. It only works for Xero users.
Now you can see the uCollect status of your Xero invoices and contacts right from within Xero! You need to be using Google Chrome as your browser for this feature to work. You can install it (at no cost) from the Google Chrome store by searching for "ucollect".
Once installed, the extension will display the invoice or contact status from uCollect at the bottom of the invoice and contact display screens. You can see the gateway that the contact is assigned to (or that no gateway is assigned) and whether the contact or invoice is suspended or the invoice has an installment plan. You can also click through to uCollect to change any of the settings as well as to the Pay Now screen (if set up). This would allow you (for example, and subject to correct gateway setup) to take Credit Cards or ACH payment over the phone in a few easy clicks!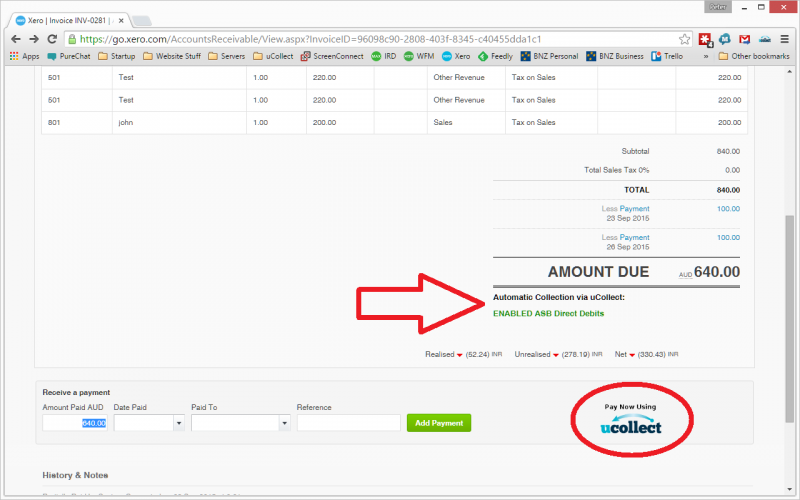 When you are viewing an invoice the extension will show you the uCollect Status for this invoice:
Enabled (Gateway Name) – this contact has been enabled for automatic collection using the specified gateway
Not Enabled – this contact has not had a gateway attached
Contact Suspended – a gateway has been attached to this contact but collection has been suspended for all invoices
Invoice Suspended – a gateway has been attached to this contact but collection has been suspended for this invoice
Installments (Gateway Name) – a gateway has been attached to this contact and an installment plan has been loaded against this invoice
If you click on the Status you will be taken to the uCollect screen with the current contact displayed.
If you have Pay Now enabled in your uCollect organization then you will also see a link to the Pay Now screen. You can use this (if properly configured) to accept credit card or ACH orders over the phone!
Please note that should Xero change their web interface this extension could stop working.
This extension does not change any of the data in your Xero ledger, and only adds code to the xero.com site presentation layer. It does not impact any other site, submit any data to Xero.com or change any of your data displayed. It simply adds a few bits of additional and useful information connected to your uCollect.biz account.
If you are not seeing the uCollect data please ensure that the email address you use to log into Xero is registered as a user in the uCollect.biz account for the same ledger.
If you need support for this extension please log into uCollect.biz and use the "Get live support" app on the site.
PLEASE NOTE: Every time Xero change their interface it can break our Chrome extension.. If the extension is not working for you please first check that your Xero user email is the same as your uCollect user email. Then let us know. It can take some time for us to resolve the issue and publish a correction. Once published your extension should update automatically.